Ukraine Sunflower Oil Just the Latest Chapter in Vegetable Oil Price Rally
May 2, 2022
Russia's invasion of Ukraine has shaken up global agricultural markets, including vegetable oil. But some perspective is needed: Even before the war, global vegetable oil prices had appreciated sharply. Since 2020, vegetable oil prices are up 113% versus gains of 51% for soy meal and 71% for unprocessed oilseeds.
Three major factors have played into the pre-Ukraine conflict price rally:
the broad commodity bull market that began after COVID,
a grain run driven by lower-than-expected soybean production in the U.S. and Brazil, and
increased grain purchases by China.
More specific to vegetable oil markets, the supply shocks in 2021, including reduced palm oil production in Indonesia and Malaysia and lower canola oil production in Canada, are another factor. And, a flurry of announcements of renewable diesel expansion projects in the United States, which will consume large quantities of soybean oil in the future, also lifted vegetable oil market prices.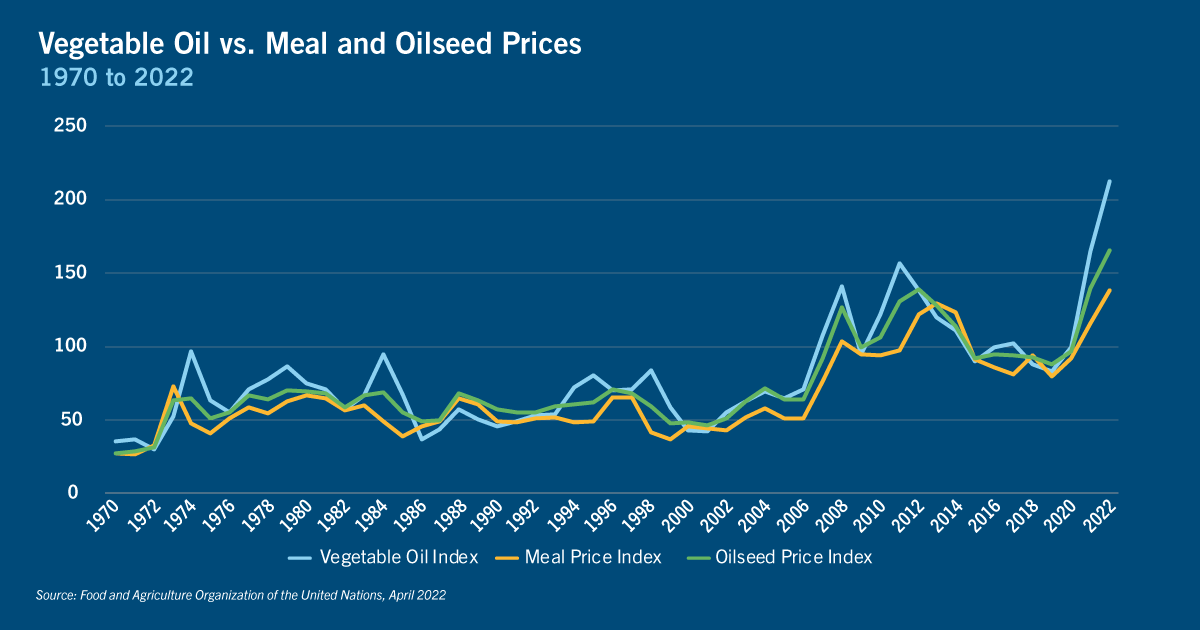 The war in Ukraine, however, is the primary reason behind most of the recent upward moves in vegetable oil prices generally and major cooking oils specifically. (Indonesia's recent export restrictions of palm oil products adds further price support.) As the Associated Press recently reported, "Vegetable oil prices hit a record high in February, then increased another 23% in March, according to the U.N. Food and Agriculture Organization. Soybean oil, which sold for $765 per metric ton in 2019, was averaging $1,957 per metric ton in March, the World Bank said. Palm oil prices were up 200% and are set to go even higher after Indonesia, one of the world's top producers, bans cooking oil exports starting Thursday to protect domestic supply."
Markets are expecting lower sunflower oil supplies from Ukraine. The risk premium in sunflower and other cooking oil prices is logical; it's justified by the fact that Ukraine accounts for 33% of global sunflower oil production and 50% of global sunflower oil exports.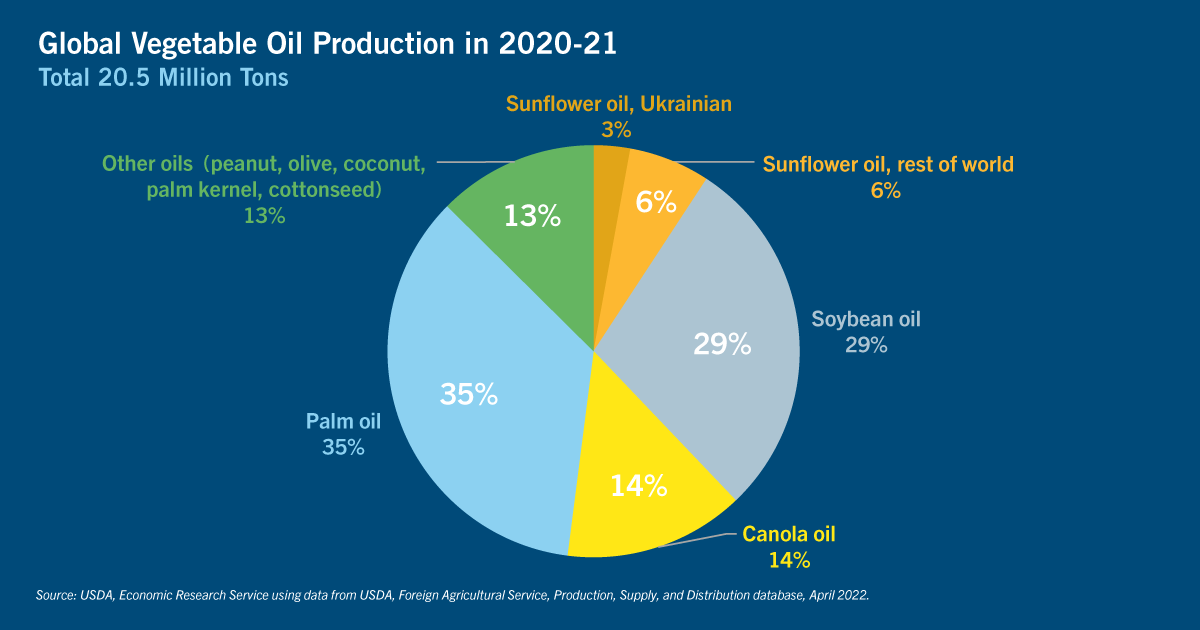 However, while Ukraine is the market-leading producer and exporter of sunflower oil, sunflower oil accounts for only 9% of global vegetable oil production and Ukraine's share is just one-third of that. Because sunflower oil is easily interchangeable with other cooking oils such as canola and cottonseed, even a 100% loss to Ukraine sunflower oil production and export volumes would be manageable—all else being equal—by product substitution.
In the meantime, global vegetable oil demand has grown at a compound annual rate of 2.7% over the past five years compared to a 2.4% increase in production. Although the vegetable oil complex has a risk premium built into it due to Ukraine, in our opinion prices will be supported by steady future growth in food oil demand and accelerating growth in biofuel demand.
That growing biofuel demand is a function of renewable diesel's growing capacity, from 1 billion gallons of annual production today to over 6 billion gallons in five years. This level, if realized, would consume nearly 98% of U.S. soybean bushels produced in 2020-21. Bottom line: vegetable oil supplies will need to increase meaningfully to meet current and future food and fuel demand; otherwise, prices will go through the roof.
Disclaimer: The information provided in this report is not intended to be investment, tax, or legal advice and should not be relied upon by recipients for such purposes. The information contained in this report has been compiled from what CoBank regards as reliable sources. However, CoBank does not make any representation or warranty regarding the content, and disclaims any responsibility for the information, materials, third-party opinions, and data included in this report. In no event will CoBank be liable for any decision made or actions taken by any person or persons relying on the information contained in this report.
Stay ahead of the game in your field. Subscribe today.
Get CoBank's industry-leading Knowledge Exchange research reports delivered straight to your inbox as soon as they're released.
Have a comment or question about these reports?
Contact CoBank's Knowledge Exchange team to ask questions, engage with analysts or receive additional information.