Helping the Grain Industry Flow Digitally
In 2019, CoBank committed $20 million to the Lewis & Clark RBIC Fund II, an $88 million Rural Business Investment Company (RBIC) created by Lewis & Clark AgriFood. St. Louis-based LAC AgriFood invests in companies at the forefront of food and agriculture innovation, which are poised to grow their technology to a national or global scale. One of those companies is Bushel, a software development company in Fargo, North Dakota, that is connecting the grain industry by building the digital infrastructure it needs to "survive and thrive in the modern business ecosystem." With an array of software and web services, Bushel empowers grain farmers and distributors to respond quickly to market changes and streamline the process of buying and selling commodities.
Larry Page, PhD, is a managing director of LAC AgriFood and sits on the board of Bushel.
"LAC AgriFood watched Bushel's progress as the broader digital agriculture ecosystem evolved," said Page. "Over time, Bushel differentiated itself as one of the few platforms focused on what happens to grain once it leaves the farm. Bushel has built one of the largest user bases in digital agriculture, counting more than 60,000 farmers and thousands of grain origination locations in its user base. Billions of bushels of grain flow digitally through the Bushel platform."
Bushel co-founders Jake Joraanstad and Ryan Raguse both have farming backgrounds and both describe agriculture as "part of our DNA."
"Bushel's customers are grain companies, co-ops, mills, ethanol plants: anybody who buys grain or oilseed from a farmer," said Raguse. "We wanted to help these companies be better at what they do. Agriculture is the least digitized industry in the world. So much of the logistics of moving grain is done by telephone and paper. Putting this information in digital form helps our customers be more effi cient, enabling them and our rural communities stay competitive with the rest of world."
"Bushel's tools help farmers, as well," added Joraanstad. "Farmers spend a lot of time tracking data, time they could spend farming or with their families. Our tools, which are free to them, help farmers quickly and easily track the price of grain, offer that grain for sale and track how many trucks have dropped off. So one of the benefits of Bushel is how much time we are giving back to farmers."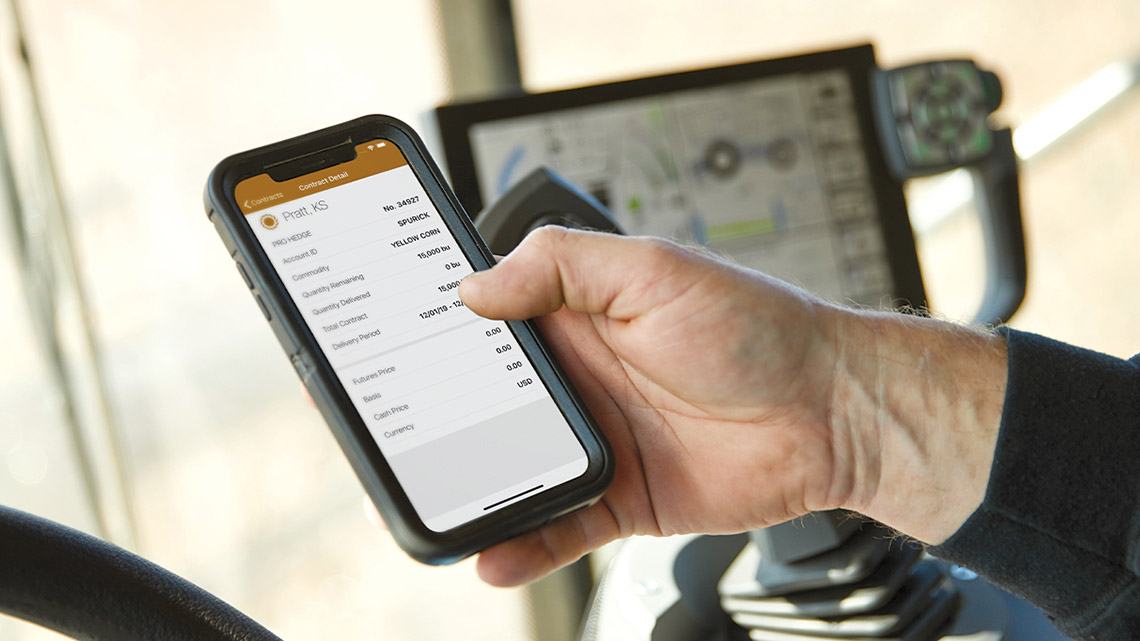 The team at Bushel appreciates its partnership with LAC AgriFood, which has helped to expand the company's capabilities.
"We were looking for fi nancial partners who understood agriculture and who were aligned with our culture," continued Joraanstad. "LAC AgriFood understood the problems we were solving and the opportunity that digitization brought to ag. They also understood that things in ag don't always happen on Silicon Valley timelines. We needed a partner that would play the long game with us, and LAC AgriFood does that."
"We are proud of our investment in Bushel and believe it exemplifi es the mission of the RBIC program," said LAC AgriFood's Page. "Bushel is a digital agriculture company that hires hundreds of high-quality software engineers in rural America. It was founded by farmers, is allied with the agriculture ecosystem and is helping to modernize the backbone of the American food system."
Just as its relationship with LAC AgriFood offers value to Bushel, the CoBank relationship also offers value to LAC AgriFood. "CoBank is a major investor in the Lewis & Clark RBIC Fund II and serves on our investor advisory board," said Dave Taiclet, general partner and managing director of Lewis & Clark AgriFood. "The relationship is very important as we share ideas, exchange views on the evolving marketplace, and help each other develop strategies and implement investment plans. This is our first RBIC Fund and the beginning, we hope, of a long and mutually beneficial relationship."